Hello,
This is Origin Online.
In order to maintain a pleasant and smooth gaming experience a new update has been applied.
Time of Completion: December 17, 08:00 Origin Standard Time (GMT -4)
[Patch]
Winter Event!

Event Duration: December 17, 08:00 to January 7, 13:00.

1. X-M-A-S Letters event!

*Hunt level 40+ monsters and Complete the word X-M-A-S and collect precious prizes from So-Ok including:
- Santa Dress.
- Santa Hat.
- SP Scrolls.
- Astral D9 and D10 Stones.
- Elixirs and Scrolls.
2. Unique Winter Dragon has appreared!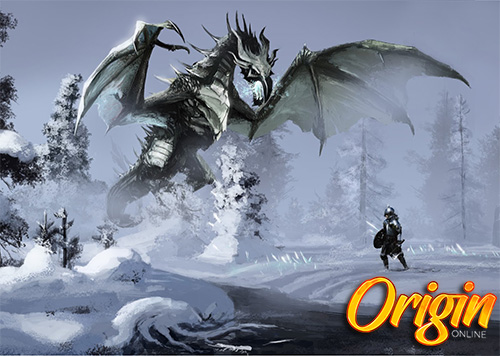 Exclusive to Origin Online, this Gigantic Unique has been spotted at the center of Karakoram, with powerful ice type attacks and debuffs it's an incredibly powerful foe, can you take it down?
Brave Warriors willing to take the challenge, have the chance to earn the following rewards.
* Silk Scroll (10) 100% chance.
* D9 and D10 Magic Lucky powder (40%+ Luck)
* D9 and D10 Astral Stones.
* D10 SOM Armor.
* Snowman Ability Pet.
* D10 stones.
* Reverse Scrolls.
* 100% resurrection scrolls.
* Elixirs.
* Rudolf Vehicle pet.
* Santa Avatar.
* Skill point scrolls.
* Winter Dragon will spawn every 9 ~ 12 Hours after it's killed. In the center of Karakoram.

3. New Events have been added!
* Earthquake Event: Hurry and Race other players to grab the Earthquake boxes on the floor! But whatch out! An earthquake is constantly rumbling and everyone is constantly being knocked out!
Grab as many boxes as you can and right click them get a random silk item when the event ends!
* Team Survival: Get as many kills as you can for your team!
There will be 4 teams on this event. The team with most kills will be awarded with Arena coins!
* Tower Defender: 2 teams will spawn inside a special event arena. Each team has a tower to protect!

The first team to destroy the other team's tower wins! but watch out, dont go all in and leave your tower unguarded!
Get rewarded with Magic Pop Cards to win this event which can be used at the magic pop NPC to win silk items!
4. Power up!
Exceed your limits! Maximum plus has been increased to +15! (With Advanced Elixir)
A new power awaits, are you up to the challenge?
5. Dressed for the ocation!
New weapon skins and Winter themed awatars have been added to Item Mall to compliment the Winter season. Try them out!
Please note that these are exclusive to this season and year. Don't miss out!
We wish you all the best during these times, Stay safe together with your loved ones.
The Journey Continues!
Origin team